What is breast augmentation surgery?
Breast augmentation surgery involves using breast implants or fat, referred to as fat transfer breast augmentation, to increase the size of your breasts or restore breast volume that has been lost after weight reduction or pregnancy.
Breast augmentation is clinically referred to as augmentation mammaplasty.
Breast augmentation can:
Increase fullness and projection of your breasts
Improve the balance of your figure
Enhance your self-image and self-confidence
Breast implants may also be used for breast reconstruction after mastectomy or injury.
What breast augmentation surgery won't do
Breast augmentation does not correct severely drooping breasts. If you want your breasts to look fuller and to be lifted due to sagging, a breast lift may be required in conjunction with breast augmentation.
Breast lifting can often be done at the same time as your augmentation or may require a separate operation. Your plastic surgeon will assist you in making this decision.
Breast augmentation candidates
 Breast augmentation is a very personal procedure and you should do it for yourself, not for someone else.
You may be a candidate for breast augmentation surgery if:
You are physically healthy
You have realistic expectations
Your breasts are fully developed
You are bothered by the feeling that your breasts are too small
You are dissatisfied with your breasts losing shape and volume after pregnancy, weight loss, or with aging
You are unhappy with the upper part of your breast appearing "empty"
Your breasts are asymmetrical
One or both breasts failed to develop normally or have an elongated shape
Breast augmentation procedure steps
 A breast augmentation procedure includes the following steps:
Step 1 – Anesthesia
Medications are administered for your comfort during the surgical procedure. The choices include intravenous sedation and general anesthesia. Your doctor will recommend the best choice for you.
Step 2 – The incision
Incisions are made in inconspicuous areas to minimize visible scarring. You and your plastic surgeon will discuss which incision options are appropriate for your desired outcome. Incision options include:

Incisions vary based on the type of breast implant, degree of enlargement desired, your particular anatomy and patient-surgeon preference.
Step 3 – Inserting and placing the breast implant
After the incision is made, a breast implant is inserted into a pocket either: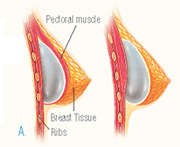 A. Under the pectoral muscle (a submuscular placement), or
B. Directly behind the breast tissue, over the pectoral muscle (a submammary/ subglandular placement)
The method for inserting and positioning breast implants depends on the type of implant, degree of enlargement desired, your body type and your surgeon's recommendations.
Step 4 – Closing the incisions
Incisions are closed with layered sutures in the breast tissue and with sutures, skin adhesive or surgical tape to close the skin.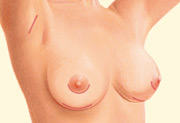 Over time the incision lines will fade.
Step 5 – See the results
The results of breast augmentation are immediately visible.